Enhance cooperation between the national and local level for DRR
By Janet Edwards
Tuesday, 20 January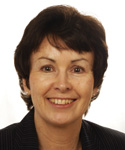 The Swedish Civil Contingencies Agency (MSB) offers a number of programs directed at increasing knowledge of disaster risk and reducing the risk level. MSB is one of the national authorities in the Swedish National Platform for Disaster Risk Reduction. Together the national agencies can stimulate research, conduct risk assessments, provide partial funding for mitigation measures, set up natural disaster databases, finance projects and much more. They can also tighten the link between discussions on, for example, DRR and climate change adaptation strategies. All these programs and initiatives benefit the local governments where the legal responsibility for disaster risk reduction lies.
MSB is also engaged in UNISDR's Making Cities Resilient campaign which we highly recommend. Together with municipalities in the campaign, we have set up several city-to-city learning exchanges within our region (Europe) and most recently, with the USA. These exchanges can be done in a cost-effective way by focusing on a small number of participants in two cities, one in your homeland and one in a foreign country. Then choose a major challenge that the cities are confronted with. For example, topics can be risk assessments for landslides, or hazard identification methods or lesson-learned from a major forest fire. The cities know what they want to discuss and where they need to take in more opinions and see more alternatives. The exchanges are usually set up for 3-days so that there is ample time for one or two field trips. It is during the field trips, while looking at the risk areas and solutions, that all the questions start to flow. Here communication peaks and synergy is at its best. There is no obligation that the city representatives ever have to meet again. But having these new contacts is definitely an added value. Such exchanges can also lead to more cooperation, for example, a future international project.
Another way that the national and local level cooperate, is through highlighting the work in the municipalities. If one of the national authorities in the platform knows of a city who is doing outstanding work, then we ask them to provide information about how they are accomplishing this. The Swedish National Platform for Disaster Risk Reduction produced a booklet with some examples on how the municipalities are tackling disaster risk reduction. When cities have accomplished a major step towards creating resilience, then it is easy for them to describe how they achieved their milestone. We also asked for photographs that show the city, the risk area and the measure taken in order to more clearly illustrate what has been done.
In addition some Swedish cities have eagerly tested the tools that UNISDR have made available on the PreventionWeb. Four Swedish cities are using the Local Government Self-Assessment Tool (LGSAT). Within the framework of a European Union financed project, Jönköping Municipality and Arvika Municipality along with cities in UK and Portugal, will be testing the Scorecard this year. They hope that it will goes hand and hand with their ordinary work in managing risks.
In our experience in Sweden we have seen many benefits to enhancing cooperation between the national and local level for DRR. Knowledge is increased. New ideas are formulated and communicated. There is better dissemination of information. More local actors are interested in international projects and activities. It might surprise you, how good the results are!
Janet Edwards is the international coordinator for the Swedish National Platform for Disaster Risk Reduction, which is in turn coordinated by the Swedish Civil Contingencies Agency (MSB).