In the aftermath of the Great Hanshin-Awaji Earthquake (GHAE), as part of its reconstruction efforts, the Hyogo Prefectural Government (Hyogo) provided "bases" for community activities such as assembly halls, and also established a "key person" system for connecting residents to both local citizens and outside support.
Case Study
A structure to achieve creative reconstruction: Local community rebuilding in Hyogo Prefecture
Location
Hyogo Prefecture, Japan
Context
The Earthquake caused many local citizens to lose their homes, forcing them to relocate to emergency temporary housing or reconstruction public housing away from their communities. It was therefore necessary to rebuild new communities. 10 years after the Earthquake, the aging-population phenomenon in the reconstruction public housing became more severe, and local residents could not preserve their community by their own efforts alone.
Coping Strategy
Making activity "bases" available: there was a need for bases for disaster-affected people to gather and communicate. In temporary housing and reconstruction public housing locations, Hyogo established a "fureai" (social) centre and community plaza, where government policy briefings, consultations, dinner meetings and handicraft lessons were held for community rebuilding.
In addition, Hyogo established the Phoenix Plaza, a facility equipped to provide useful information for the recovery of disaster victims, and to promote communication among volunteer groups while assisting their relief activities.
Conducting individual consultation service: it was difficult to deliver information and carry out monitoring activities for disaster victims at evacuation shelters and emergency temporary housing locations, since they were cut off from local community support.
Hyogo therefore installed public support, with "livelihood support advisers" at temporary housing locations and "lifestyle restoration consultants" at reconstruction public housing sites. At the same time, these supporters cooperated with local community organisations and volunteers to send out information to meet the needs of disaster victims and deliver consultation services while responding to their requests.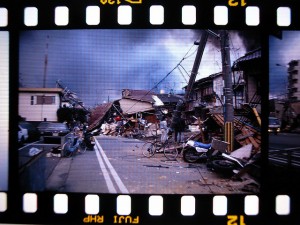 Hyogo further arranged for "living support advisors (LSAs)" and "senior citizen supporters (SCSs)" to carry out monitoring activities including safety confirmation, emergency support and housekeeping assistance for senior and other vulnerable citizens.
Hyogo developed the "Elderly Independence Support Plaza" to provide a monitoring service for the reconstruction of public housing locations. Supporters reside in vacant homes.
Recovery support for the local community: Hyogo established a scheme to provide subsidies for inventive initiatives by residents' associations and local community groups. Moreover, it installed local community building supporters as advisors to deliver advice on community building activities. A prefectural resident exchange plaza program was also initiated – an initiative designed to give subsidise costs associated with developing activity bases and the launch of other relevant projects, which support efforts to rebuild the local community.
Results
These endeavors stimulated the formation of residents' associations at public housing reconstruction locations, enabling disaster victims to feel more comfortable with the new houses and the local community at an early stage, which proved to have a significant effect on their subsequent recovery of their lives.
Measuring Success
Disaster victims and supporters gathered at activity bases to communicate with one another. This helped victims to restore their lives in a self-help manner. This also led to the formation of local community-based organizations as well as networks of different types of people including experts and members of non-political organization. The result was the development of the ability of local citizens to resolve a variety of local community challenges.
Potential for Replication
After the Great Hanshin-Awaji Earthquake, a typical model to support life recovery of disaster victims consisted of efforts to maintain and rebuild the local community, by setting up an assembly hall at temporary housing sites and having consultants and other supporters make door-to-door visits to disaster victims individually.
Since government measures alone could not sufficiently support restoring the disaster victims' life conditions, policymakers in other countries should strive to maintain and rebuild the local community, which serves as a platform for local residents to support one another.
Contact Information
Mr. Masahiko Murata – Director, Research Department
Disaster Reduction and Human Renovation Institution (DRI)
1-5-2 Wakinohama-kaigandori, Chuo-ku, Kobe, 651-0073, Japan
Tel: +81-78-262-5065 / Fax: +81-78-262-5082 /
Mail: murata1@dri.ne.jp
Mr. Naoki Nakatsu – Chief, Disaster Management Project Planning Division,
Disaster Management & Planning Bureau,
Civil Policy Planning & Administration Department
5-10-1 Shimoyamate-dori, Chuo-ku, Kobe, Hyogo, 650-8567, Japan
Tel: +81-78-362-9870 / Fax: +81-78-362-9914 /
Mail: naoki_nakatsu@pref.hyogo.lg.jp