Regional cooperation for disaster risk reduction
By Hari Krishna Nibanupudi
Saturday, 7 March 2015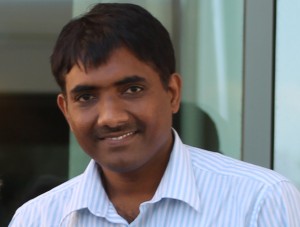 The last decade has seen a welcome shift in the way disasters are managed by most countries of the world. The world has finally moved from a reactive to proactive approach in dealing with disasters. Disaster risk reduction has finally become a priority for many nations, against a backdrop of increasing frequency of climate extremes and thanks to the guidance of the 2005-2015 Hyogo Framework for Action (HFA).
The big question now is, are the nations ready to take bigger steps to bring greater sense of security from disasters? Are they ready to shed their egos, dogmatic ideological and political positioning and skeptical foreign policy perspectives in order to work with the neighbors and other powers in the region to save their communities from disasters?
It is important to recognize that disasters are taking place across human and geological landscapes which are divided by political boundaries. Disasters know no boundaries. For instance, not long ago, a landslide induced flooding in the Sun Koshi River in Nepal, triggering a high alert not only in the downstream communities in Nepal, but also several hundred kilometers away in the Bihar state of India. It was good to see that the Governments of Nepal and India worked in tandem to exchange regular information, communication and cooperation to reduce the impact the disaster.
However, it's not always the case that countries are on the same page when it comes to trans-boundary and regional cooperation in disaster prevention and risk reduction. 
For instance, there has been a decades of bilateral and multilateral bickering between countries in South Asia, South East Asia and many other regions over hydrological data sharing. After every major trans-boundary flood, downstream countries allege that upstream countries did not cooperate in timely data sharing and flood warning. There have also been complaints that the post-disaster humanitarian assistance by many regional and global powers misses the humanitarian perspective and is trapped in geo-political games. Such mutual distrust and gaps in communication between regional and global neighbors raises concerns over the ability of our world leaders in fostering regional and international cooperation to assist disaster-affected communities and reduce future disaster risk for them.
Unconditional sharing of water, climatic, environmental and geo-physical data between countries in a region is crucial for disaster prevention. Unfortunately, such data sharing remains a prisoner of bilateral and regional political dynamics. It is primarily because data is seen as a means of power to possess, rather than as a resource to share and prosper together. In this increasingly disaster-prone world, bilateral and multilateral development engagements should not overlook the common problem of disaster risk. The national governments in all regions of the world need to transcend the political divide and agree on common risk-management and resilience objectives, and to achieve them through joint analysis, planning, programming and funding. The HFA has emphasized regional cooperation for disaster risk reduction, especially in the areas of exchange of technology, capacities, hazard and vulnerability monitoring, data sharing and resource mobilization.  
The collective action element ensured the effectiveness of a community-based disaster risk reduction approach the world over. It's the same spirit of collective action that is the need of the hour on a regional and global scale to check the increasing risk of disasters. It is high time that countries de-link disaster risk reduction from long unresolved trade and political issues in their bilateral and multilateral diplomatic engagements. The countries should also agree on linking specific risk reduction objective/issue with broader goals of regional development due to the nature of trans-boundary impacts of disasters. Further, at the forthcoming World Conference on Disaster Risk Reduction, the participating countries should discuss the possibility of creating a legal and institutional framework for effective regional and international cooperation for disaster risk reduction.
Hari Krishna Nibanupudi is a dedicated worker on disaster risk reduction. In his two-decade career, he has worked in different countries in South Asia and South East Asia with a focus on community-based disaster risk reduction, gender sensitive disaster management, ecosystem-based disaster risk reduction and regional cooperation for disaster risk reduction. He is currently on a deployment mission for the Swedish Civil Contingency Agency (MSB) as Disaster Risk Management expert in the Philippines. He can be reached at hari_2068@yahoo.com or on Twitter @krishna_hari.