United Nations Office for Disaster Risk Reduction (UNISDR)
Quotes by UN Secretary-General Ban Ki-moon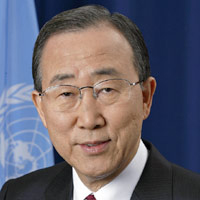 "The Hyogo Framework for Action has laid solid foundations for building resilience to disasters. Many thousands of people are alive today thanks to better early warning systems, improved weather forecasting, better education on risk and a greater understanding of the dangers posed by natural hazards.
However, it is also clear that while we are doing a better job of managing disasters, we are less good at managing disaster risk. Society creates the disaster, not the hazard itself. Disaster risk is rising along with a failure to address the drivers of risk such as poverty, climate change, inequality, unsustainable land use and weak building codes. I hope these issues will be addressed in the updated Hyogo Framework for Action which will be adopted at the Third UN World Conference on Disaster Risk Reduction in Sendai, Japan.
The year 2015 can be a turning point in human development if we agree on a path to resilience through strong agreements on disaster risk reduction, development financing, climate change and a new set of sustainable development goals."
Quotes by Margareta Wahlström, Special Representative of the Secretary-General for Disaster Risk Reduction and head of UNISDR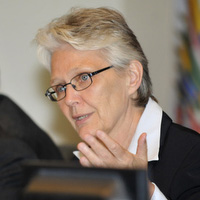 "The road to Sendai began ten years ago. As the world struggled to comprehend the loss of 227,000 people in the Indian Ocean tsunami, the Hyogo Framework for Action was adopted in Kobe in January 2005. Its aim was simple – save lives by reducing the risk from disasters.
Has the world lived up to the HFA's ambitious goals? The evidence looks far from favorable. The past decade has been marked by some of the worst disasters on record. Port-au-Prince collapsed in an earthquake. Hurricane Katrina devastated New Orleans. Drought killed untold numbers in the Horn of Africa. Floods and earthquakes affected millions in Pakistan and China. Heatwaves and wildfires have ravaged countries around the world.
That is a stark reminder of the need for agreements like the HFA. The drivers of disaster risk abound, from improper land use to non-existent or poorly implemented building codes, from environmental degradation to poverty, as well as climate change, and weak governance by inappropriate and insufficient institutions.
But in the decade since the HFA was adopted, we have also see crisis management turn into proactive risk reduction. To date,  121 countries have enacted legislation. They have shown that resilience is the key. Disasters still exact a huge personal and economic toll, but worldwide, fewer people die in floods and storms as a result of more accurate forecasting, earlier warnings and better preparedness.
The private sector is increasingly involved in disaster risk reduction. Resilience is both good for society, and good for the economy. After ten years of the HFA, there is no reason why a Finance Minister or a CEO would choose to pay for disaster but not to invest in prevention. Every dollar invested in disaster risk reduction, by eliminating the recurring causes of losses, can mean savings of seven dollars.
It is time for the world to embed disaster-resilience into the economic system, and into the development of towns and cities,  taking into account factors such as seismic threats, flood plains, coastal erosion and environmental degradation. If we get it right in Sendai, resilience can become the hallmark of 2015, setting the tone for agreements later on sustainable development and climate change – which have important implications for disaster risk." 
Key speakers and experts in Sendai
Margareta Wahlström, Special Representative of the Secretary-General for Disaster Risk Reduction and head of UNISDR
Andrew Maskrey, Lead author of the Global Assessment Report on Disaster Risk Reduction
UNISDR media team in Sendai
Spokespeople:
Brigitte Leoni, Regional Communications Officer, UNISDR Asia/Pacific Regional Office
+66899275516 leonib@un.org
Denis McClean, Chief, Communications & Media, UNISDR
+41794445262 mccleand@un.org
Media Focal Points:
Jonathan Fowler, Public Information Officer, UNISDR
+41766910314, fowlerj@un.org
Andy McElroy, Public Information Officer, UNISDR
+8201079248424 mcelroy@un.org
Berta Acero, Regional Communications Officer, UNISDR Arab States Regional Office
+201022230060 acero@un.org
Humberto Jaime, Communication and Information Manager, UNISDR Americas Regional Office
+50765413228 jaime@un.org
KEY MESSAGES
Managing disaster risks needs to become a defining characteristic of sustainable development.
Reducing disaster risk is a cost-effective investment in preventing future losses.
 The HFA has helped raise public and institutional awareness, generate political commitment, and catalyze actions by a wide range of stakeholders. The HFA2 will build on those foundations.
Most countries have understood and practiced disaster risk reduction as the management of disasters; the HFA2 will create a shift to managing the underlying drivers of risk (see below).
Accelerated efforts are needed to reduce exposure and vulnerability, preventing the creation of new disaster risk, and to ensure accountability for disaster risk creation.
Disaster risk is increasingly concentrated in hazard-exposed cities emphasizing the importance of urban resilience through initiatives like the UNISDR Making Cities Resilient Campaign.
WCDRR will deliver the first agreement of the Post-2015 Development Agenda and set the tone for agreements to follow on development financing, sustainable development goals and climate.
Public and private investment in disaster risk prevention and reduction through structural and non-structural measures are essential to enhance the economic, social, health and cultural resilience of persons, communities, countries and their assets as well as the environment.
THE HUMAN AND ECONOMIC COST OF DISASTERS
Between 1994 and 2013, an average of 218 million people was affected annually by disasters caused by natural hazards, vulnerability and exposure.
Between 1994 and 2013, 6,873 recorded disasters claimed 1.35 million lives for an average of 68,000 deaths per year (this excludes unrecorded major loss of life linked to drought).
Asia was hit by 2,778 disasters over the 20 year period with 841,000 deaths and 3.8 billion people affected.
155 million people suffered short or long-term displacement by disasters (2008 to 2013).
 Certain social groups including persons living with disabilities and older persons are disproportionately affected in disaster situations.
The true extent of economic losses is now estimated to be reaching an average of US$250 billion to US$300 billion annually while internationally reported major losses amount to US$1.3 trillion over the last ten years of the Hyogo Framework for Action (2005-2015).
It is estimated that 42 million life years were lost annually in internationally reported disasters between 1980 and 2012, a setback to development on a par with tuberculosis.
Governments should set aside US$314 billion every year to meet expected annual average losses from just earthquakes, tsunamis, tropical cyclones and river flooding.
Average annual losses in low-income countries are equivalent to 22% of social expenditure compared to only 1.45% in high income countries.
Many countries including Small Island Developing States would not pass a stress test of their fiscal resilience to a 1-in-100 year loss.
Every $1/€1 invested in DRR results in savings of $4/€4 to $7/€7 in disaster response.
Global average annual loss is estimated to increase up to US$415 billion by 2030 due to investments in urban growth.
Annual investments of US$6 billion could reduce losses by US$360 billion.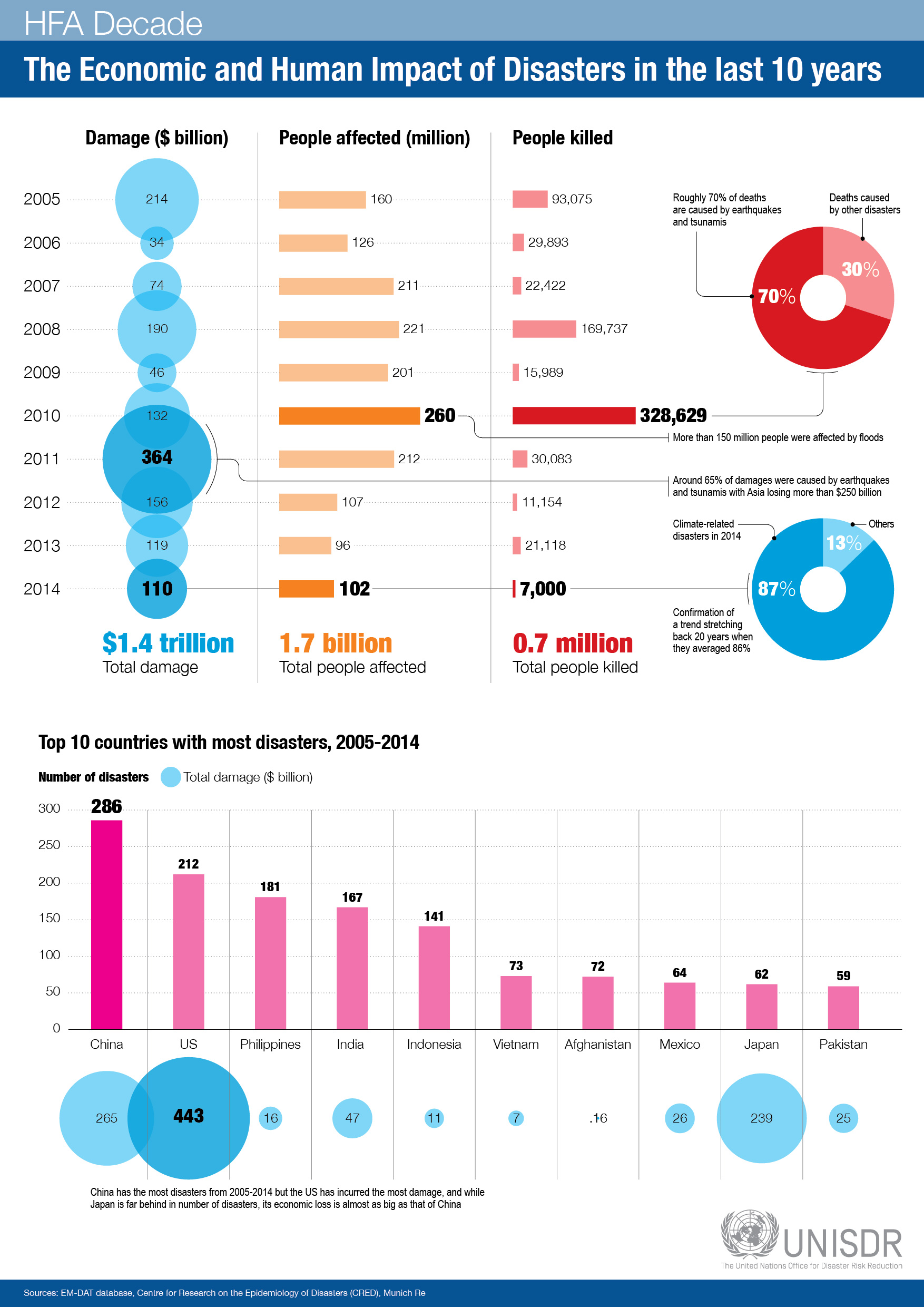 THE HYOGO FRAMEWORK FOR ACTION (2005-2015) – BUILDING THE RESILIENCE OF NATIONS AND COMMUNITIES TO DISASTERS (HFA)
The HFA is an international framework adopted in Kobe, Japan, in 2005 to achieve "the substantial reduction of disaster losses, in lives and in the social, economic and environmental assets of communities and societies." It was endorsed by the UN General Assembly in 2005.
HFA Priorities are: (1) ensure that disaster risk reduction is a national and a local priority with a strong institutional basis for implementation; (2) identify, assess and monitor disaster risks and enhance early warning; (3) use knowledge, innovation and education to build a culture of safety and resilience at all levels; (4) reduce the underlying risk factors; and (5) strengthen disaster preparedness for effective response at all levels.
The HFA Decade has seen an exponential rise in political commitment to DRR e.g. institutional and legislative arrangements; improvements in preparedness, early warning, disaster response.
Most countries have practiced DRR as disaster management and not given enough attention to addressing the underlying drivers of risk e.g. urban planning, ecosystem protection, poverty.
Too few countries systematically account for disaster losses and factor risk assessment information into national planning, investment and development decisions.
The latest data shows that only 15% of low income countries report success in using land-use planning and urban development to reduce risk.
HFA PROGRESS
2,400+ towns and cities – including 73 capital cities – participate in UNISDR's Making Cities Resilient Campaign with a combined population of 700 million;
191 countries have established focal points for disaster risk reduction;
146 countries have participated in at least one HFA review;
121 countries have enacted legislation to establish policy and legal frameworks;
86 countries have set up formal national coordinating bodies for disaster risk reduction (national platforms) and they help to create a common language, vision and understanding of the responsibility for DRR nationally.
There are now 85 national disaster loss data bases. This record of systematic and comparable disaster loss data reveals the impact of extensive risk – minor but recurrent disaster risks. Mortality from weather-related disasters is in decline in many countries e.g. Cuba, Bangladesh, India, Mozambique and the Philippines due to risk information and early warning systems.
THE MAIN DRIVERS OF RISK
Governance/ lack of political commitment: Accumulated disaster risk directly challenges the capacity of many countries to make the capital investments and social expenditure required to achieve sustainable development. Improving governance e.g. by creating awareness of the political consequences of inaction, is the most important priority for reducing disaster risk.
Environmental and natural resource management: By 2050 we will need 50% more food, 45% more energy and 30% more water, (UNEP); protecting and restoring regulatory ecosystems can reduce weather-related hazard while climate-smart agriculture can enhance food security.
Climate Change: Reducing energy consumption – global CO2 emissions are nearly 5 tons per capita – and moving to renewable energy reduces the risk of catastrophic climate change; between 1880 and 2012, combined land and sea temperatures have risen 0.85˚C; global sea levels rose 19 cm between 1901 and 2010; 86% of disaster events over the last 20 years were climate-related.
Social and Economic development: Addressing risks requires actions such as reducing poverty, planning and managing cities appropriately, e.g. 1 bn. people living in slums; 1 bn. hungry; 1.6 bn. with no electricity; 2.6 bn. no access to hygienic toilets; 1 bn. no access to safe drinking water; 8 m. under five deaths each year; 3.8 m. deaths from household air pollution; – UN Statistics.
Urban and land use planning: River flooding is a threat to over 379 million urban residents, earthquakes, 283 million, and strong winds, 157 million (UN-Habitat 2014). Many city governments in low and middle-income countries are struggling to plan and organize urban settlement in a way that builds resilience to disasters and reduces disaster risk.
THE POST-2015 FRAMEWORK FOR DISASTER RISK REDUCTION/HFA2
The Third United Nations World Conference on Disaster Risk Reduction (WCDRR) is the opening act of the Post-2015 Development Agenda and will adopt an updated version of the current Hyogo Framework for Action, the Post-2015 Framework for Disaster Risk Reduction aka HFA2.
The Post-2015 Framework for Disaster Risk Reduction will be a non-binding framework for disaster risk management to be adopted and approved by government representatives meeting at the WCDRR, the first gathering of its kind since 2005.
The Post-2015 Framework for Disaster Risk Reduction is the result of an exhaustive series of consultations with governments, local governments, parliamentarians and major groups from civil society begun in March 2012.
The Post-2015 Framework will be "concise, focused, forward-looking and action-oriented" as requested by the UN General Assembly, centered on proven actions which deliver results, reducing further the loss of lives from disaster events and preventing economic losses.
The Post-2015 Framework will provide a formula for reducing the level of existing risk and preventing the creation of new risk.
The Post-2015 Framework will have an important new focus on health.
The new framework will apply to the risk of small scale and large scale, frequent and infrequent, sudden and slow onset disasters, caused by natural or man-made hazards as well as related environmental, technological and biological hazards and risks.
THE WORLD CONFERENCE AND THE HFA2
The World Conference, to be held from 14 to 18 March 2015 in Sendai, Japan, will draw a unique gathering of Heads of State and government ministers which will adopt the HFA2 or the Post-2015 Framework for Disaster Risk Reduction for the coming ten years or more.
The World Conference will witness an impressive and inclusive alliance of support behind governments which will emphasize that 'disaster risk is everybody's business'. This alliance will include city leaders, academics and scientists, the private sector, women, children and youth, farmers, indigenous peoples, NGOs, and trades unions.
The World Conference will be the first of three international development processes to conclude in 2015 and will set a precedent for discussions on the post-2015 development agenda/ sustainable development goals (September) and, the COP21 climate negotiations through the UN Framework Convention on Climate Change (December).
The World Conference debates and working sessions will focus on actions laid out in the new framework to address the underlying drivers of disaster risk such as poverty, poor urban planning and land use, climate change and the destruction of natural protective eco-systems.
The World Conference will encourage private and public investment strategies to shift from reactive approaches that manage disasters to proactive ones that, instead, manage disaster risk. This will reduce the vulnerability and exposure of people and assets to natural hazards.
The World Conference and the new framework will recognize the central role of the private sector in reducing disaster risk. Private investment largely determines disaster risk: in most economies 70%-85% of overall investment in made by the private sector.
About UNISDR
UNISDR was established in December 1999 by the UN General Assembly as the secretariat tasked with ensuring the implementation of the International Strategy for Disaster Risk Reduction. It is also the focal point in the UN system for the coordination of disaster risk reduction and the implementation of the international blueprint for disaster risk reduction – the Hyogo Framework for Action 2005-2015: Building the Resilience of Nations and Communities to Disasters – which was adopted just weeks after the 2004 Indian Ocean Tsunami. UNISDR also works to ensure synergies among the disaster reduction activities of the United Nations system and regional organizations, and between activities in the socio-economic and humanitarian fields.
More information is available at: //www.wcdrr.org and http://www.unisdr.org/
You can also follow @unisdr on Twitter and Instagram, or visit us on Facebook