Disaster risk reduction? Don't hold the front page
By Megan Rowling
Monday, 9 March 2015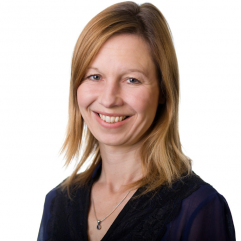 It seems that pretty much everyone – from U.N. specialists to aid workers to journalists – struggles to make disaster risk reduction (DRR) a sexy issue.
And my first sentence contains one of the main reasons why. There's so much jargon around the subject, starting with its name, that many people out there in the real world find it a turn-off, even though it's something they really should know more about.
Want to sell an editor a story idea about how to protect people from disasters?
Don't start by mentioning the acronym "DRR". Come armed with examples of what disaster risk reduction actually means in practice. Write about real-life situations and the concrete benefits it can bring.
These are just a few tips from my own experience of writing DRR stories over the past nine years or so. But even if you follow my advice, there's still no guarantee you'll get your piece commissioned.
Unless perhaps the place where you live has recently suffered from a disaster. It's usually in the aftermath of an earthquake, a tsunami or a flood that the media, like the rest of society, most likes to navel-gaze about what should have been done to stop that hazard turning into a crisis.
This probably doesn't bode well for news coverage of the upcoming World Conference on Disaster Risk Reduction in Sendai, Japan.
More than one person has remarked to me that, unlike in 2005, when the first global DRR action plan was adopted, there hasn't been a big disaster in the lead-up to Sendai (although let's not forget that northeastern Japan is still grappling with the consequences of the huge tsunami and nuclear emergency that caused widespread panic and devastation in 2011).
When the Hyogo Framework for Action was agreed 10 years ago, it was a matter of months after the Indian Ocean tsunami killed some 230,000 people on Dec. 26, 2004. If that's not a good enough reason to start reducing disaster risk, then what is?
But this time around, those running the Sendai conference – including the U.N. Office for Disaster Risk Reduction (UNISDR) and the Japanese government – seem to be struggling to capture the popular imagination, at least in Europe where I am based.
There appears to be a disconnect between the stiff, formal language of the new framework, which is still under negotiation, and the fact that we are all living with a growing amount of risk, whether because of climate change, new technologies, rapid urbanisation or worsening inequality.
How to bridge that gap? This is something we should all be thinking harder about.
As the charitable part of Thomson Reuters news agency, we are a media outfit with a mission to cover humanitarian crises and climate change, among other things, with a clear focus on the developing world.
That makes covering DRR an easier job for my colleagues and I, compared to correspondents at a national newspaper or TV station. It's less of a hard sell.
But that doesn't mean we can talk in mind-numbing jargon – and believe me, we all have lapses. We are writing our stories for the general public, as well as an audience already interested in DRR.
So we have to grab those intangible concepts and turn them into stories people will want to read. And to that end, we've been running a series ahead of Sendai on hot topics and innovation in disaster risk reduction.
Our stories range from the role of traditional healers in averting epidemics like Ebola, to floating architecture in Thailand and the need for India's future "smart cities" to get smarter about disasters.
The articles look at efforts by women and young people to protect their communities and even profit from it, as well as how creating short-term benefits for societies and economies can make DRR a much more attractive prospect.
One thing is for sure, whether or not Sendai succeeds in grabbing the headlines, in the months and years to come the Thomson Reuters Foundation will continue reporting on DRR – although of course we shan't be calling it that.
Megan Rowling is a journalist for the Thomson Reuters Foundation, covering the latest developments in humanitarian crises, aid, climate change, governance and women's rights. She specialises in the impacts of climate change on developing countries, and solutions to this growing problem, including disaster risk reduction and climate finance. She has worked to develop the foundation's reporting on climate change since the mid-2000s. She also edits articles and does web production. Before joining the foundation, Megan was a print and television journalist in Britain, France and Japan. Since the mid-1990s, she has written and reported on-screen for Reuters, the BBC, the Times, the Guardian, New Internationalist, the Daily Yomiuri and Jiji Press, among others, covering economics, business and politics. She also worked for short periods in media relations for the British Red Cross and as a translator. She has a degree in Japanese and a master's degree in development management.