As many as 200 million people will be displaced by natural disasters caused by the effects of climate change by 2050.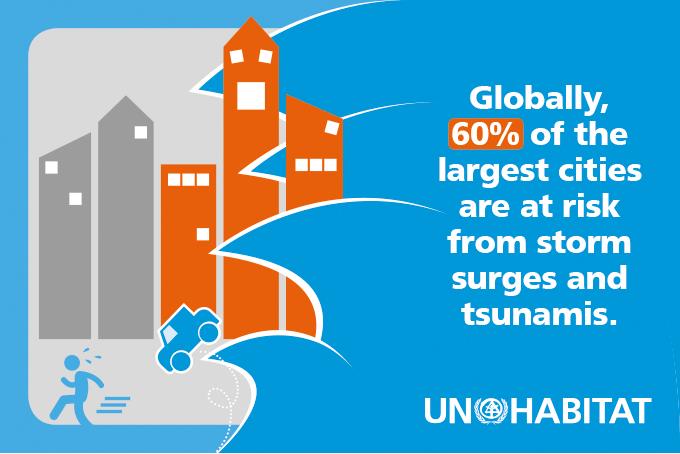 Contact
CRPP experts available in Sendai:
Joan Clos, Executive Director, UN-Habitat
Dan Lewis, Chief Urban Risk Reduction UN-Habitat
Esteban Leon, Chief Technical Advisor Urban Risk Reduction UN-HABITAT
Tricia Holly, Senior Partnership, Outreach and Advocacy Adviser, CRPP – UN-HABITAT
Communications Focal Point:
Ana Moreno, Spokesperson and Head of Communications, UN-Habitat, email: ana.moreno@unhabitat.org
About UN-Habitat
 UN-Habitat is the United Nations programme working towards a better urban future. Its mandate is to promote socially and environmentally sustainable human settlements development and the achievement of adequate shelter for all. As the lead UN Agency responsible for ensuring the sustainable development of cities, towns, and other human settlements, UN-Habitat is strategically placed to coordinate the humanitarian and development efforts of multiple actors and policy makers at all levels in the common pursuit of urban resilience.
UN-Habitat's approach to strengthening urban resilience as a key determinant for ensuring the effectiveness of response interventions during times of crises, and subsequent sustainable development, is embodied in its City Resilience Profiling Programme (CRPP). The CRPP goes beyond conventional approaches to 'risk reduction', delivering a forward-looking, multi-sectorial, multi-hazard, multi-stakeholder model for building resilience that recognizes the complexities and unique value of cities, and the inherent interdependencies of each part of an urban system.
Find more information: www.unhabitat.org and www.cityresilience.org