Disasters, the disadvantaged and the visually impaired
By Nagar M Verma
Saturday, 14 March 2015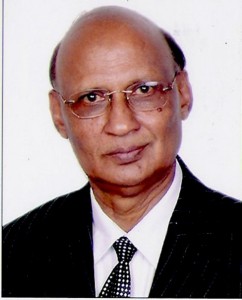 India has a population of about 10 million visually impaired women and girls. They are highly vulnerable in disasters and disruptions caused by the impact of climate change. They lack of societal recognitions and face discrimination towards recognizing the need to mainstream them in the process of capacity building to minimize loss of lives, sexual violence and the extreme conditions of health and hygiene problems they face.
It is an unfortunate reality in India where families, society and people in governance themselves have little awareness and preparedness at individual and family level to cope with disasters, how they could protect women and girls who are visually impaired in such emergencies?
There is a need to have a positive change to make visually impaired women, girl's and men (gender equality) inclusive part of plans and policies for empowering them to cope with disasters. The Saritsa Foundation has the unique distinction in India of empowering visually impaired women and girls. This pioneering approach in its mission to provide equal opportunities to visually impaired women and girls to build their capacity with needed sensitivity for past 15 years has helped about 2500 women and girls to develop their skills for prevention, mitigation and preparedness for many kinds of disasters.
It is my passion and the passion of the team of Saritsa Foundation to empower visually impaired girls and women by providing them opportunities to be aware and alert to protect in disasters by seeking timely help and preparing themselves. The Saritsa Foundation organized a workshop for visually impaired girls and teachers of Smt. Kamla Mehta School for Blind Girls, Mumbai on 9 March 2015, to mark Women's Day. 
The Saritsa Foundation has recognized the importance of investment in generating knowledge and imparting education and practical training for disasters since June 2000.  It empowers communities who are most vulnerable at local level to protect lives and property in disasters as an inclusive part of their contributions to make them resilient and safer.
Disasters are frequent threats and enemies of humanity. Are  individuals, families, employees, staff, executives, of corporate sectors, community groups of women, children, persons with disability, youth and common citizens prepared to protect or survive on their own for at least 24 to 72 hours following a major disaster such as an earthquake, cyclone,  flood, landslides terrorism and bomb blast or chemical, biological and nuclear hazards?  Do people give a thought of investing in education and training to make their family safer in disasters by raising their awareness and educating them and making plans for such emergencies?  The answer is mostly 'No'. 
To take care of this needed concern, the Saritsa Foundation raises awareness, imparts education and training with inputs of information, generation of knowledge and practical training and mock drills to people at their doorsteps. The foundation works as a 'mobile university' on disaster rik reduction and climate change. The teams of Saritsa Foundation reach to the people, talk to the people and prepare people to build capacity to minimize risks from disasters and impacts of climate change by organizing workshops, debates, mobile campaigns, demonstrations and mock drills, mass contacts, seminars, family conferences and street plays. The Saritsa Foundation advocates and practices people centered, people led, and people owned methodology to teach participants the art of survival in harsh reality of enhanced threats of disasters. It has built capacity amongst 2,26,000 people including 10,050 persons with disabilities in 19 states of rural and urban India.
Saritsa Foundation has so far prepared school children, teachers, women, persons with disabilities, youth, Indian Red cross volunteers, police personnel, officers, jawans and their families, coastal communities and staff of districts, village panchayat members and municipal council members in partnership with governments, UNICEF, UNDP, World Vision, Abilis Foundation Finland, universities, colleges, schools, the armed forces, societies, social, religious and political forums and corporate sector employees in 19 states of India for the past 15 years.
The Saritsa Foundation defines the roles and responsibilities of each group and makes them practice with needed equipments as part of their learning with innovate use of local resources. The mock drills with live situations scenario are inclusive part of capacity building of each group. They are made to practice, rehearse and learn to respond to strengthen their skills  to protect including organization of search and rescue at local level. It has specific modules of education and training for each group of participants. 
Dr. Colonel Nagar M Verma is Director General of the Saritsa Foundation, based in Mumbai, India. To find out more about the foundation's work, please visit www.saritsafoundation.org  and  www.youtube.com/user/saritsafoundation.